THE GOLDEN AGE OF BRITISH THEATRE (1880-1920)
by Sydney Higgins
Cecilia (Cissy) Loftus (1876-1943)
| | |
| --- | --- |
| | |
| (signed postcard, gloss, Rotophot, 065, c.1893 | (signed postcard, matt, J. Beagles, 565, c.1894) |
Cecilia (Cissie or Cissy) Loftus was born in Glasgow (GB) on October 22, 1876. Her father, Ben Brown, was part of the successful variety group, Brown, Newland & Le Clerc. Her mother, Marie Loftus (who was only eighteen when Cecilia was born) became a star of burlesque, billed as "The Sarah Bernhardt of the Halls"

After a convent education, Cecilia became her mother's dresser, accompanying her on her tours of the great variety halls. She learnt much about the business and determined to follow in her mother's footsteps. She made her debut, at the age of fifteen, singing "Molly Darling" at the Alhambra Theatre of Varieties, Belfast. In July 1893, she appeared at the Oxford Music Hall, presenting her impersonations of both male and female variety stars. Because of her youth, beauty and ability as a mimic, she was an instant success, attracting considerable attention.
Shortly afterwards, she was a sensation at the Tivoli Theatre in the Strand. One of the most devoted of her new admirers was Max Beerbohm (1872-1956), the critic and caricaturist. For several months, his letters to friends dealt mainly with his infatuation with her, claiming that his new-found love had reformed him. "I have become good and am really happy at last" he wrote to his friend, Will Rothenstein.
So enamored was he with her that he began to distance himself from Oscar Wilde who, up to then, had been his friend and mentor. On August 19, 1893, in a letter to Reggie Turner, he said, "Apropos of my former self, Oscar was at the last night of the Haymarket [Theatre], Nor have I ever seen Oscar so fatuous" Of course I would rather see Oscar free than sober, but still, suddenly meeting him after my simple and lovely little ways of life since the Lady Cecilia first looked out from the convent-window, I felt quite repelled.
Cecilia was not only a star in variety, she also was a success at the Gaiety where she played opposite Millie Hylton in Don Juan. In 1894, when she was seventeen, she eloped with a friend of Max Beerbohm, the Irish writer Justin Huntly McCarthy (1860-1936). Son of the famous writer and Irish politician, Justin McCarthy, he was twice as old as Cecilia. The couple married in Blackburn, Lancashire.
In January 1895, Herbert Beerbohm Tree, the famed English actor-manager, set sail to conquer America with his wife, a large group of actors and his half bother, Max Beerbohm who was going to act as his press representative. At the same time, Cecilia Loftus and her husband also went to New York, appearing in vaudeville at Koster & Bial's - New York's most prestigious vaudeville house. She was a sensation. Tree was not and, three months later, he and his fellow thespians returned, slightly deflated to their home shores. Cecilia Loftus stayed on, in April appearing for the first time on the legitimate stage in The Highwayman at West 45th Street Theatre.
After her return, Cecilia Loftus continued - as her mother was still doing - to play the music halls but she was also determined to be a more versatile performer, able also to play romantic drama and Shakespeare. Perhaps in order to help her assume totally different roles, she appeared at this time under the names of Cissy, Cissie, Cecilia and even Kitty Loftus.
In 1900, she and her husband returned to New York, where she first appeared in a revival of the operetta The Mascot. She then joined Helena Modjesk's company, appearing as Viola in Twelfth Night and Hero in Much Ado About Nothing. After a brief spell with Daniel Frohman, she joined E. H. Sothern as his leading lady (sandwiched, as it were, between his first and second wives - Virginia Harned and Julia Marlowe). While with him, she played her most famous role - Katherine in If I Were King (1901), a play written for her by her husband that was to be often revived and would be made into the operetta The Vagabond King.
On her return to England, she revived her role in her husband's play. Then, for the 1902 spring season, Sir Henry Irving contracted her to play Margaret in his production of Faust. It opened on April 26, 1902, to mixed reviews, although there was almost universal praise for her role. The Era of May 3, 1902, enthused:
Great interest was felt in Miss Cissie Loftus appearance as Margaret. Miss Loftus has only been known to the London public as a clever imitatress and the progress she has made since her visit to America astonished and delighted all her well-wishers. Miss Loftus takes a more natural and less conventional view of the character of Margaret than most of her predecessors, but preserves all the winning simplicity and artless sweetness of nature so indispensable in any reading of the role... In the more serious and "soulful" passages Miss Loftus was delightfully simple and sincere, and in the outbursts of remorse and distress later on she displayed an amount of dramatic expression and power that astonished her most sanguine supporters.
Most unusually, Cecilia Loftus continued to work successfully in both the variety and legitimate theatre. In 1905, she played Peter Pan to considerable acclaim in the second British production of Barrie's play, presented at the Trafalgar Square Theatre (later the Duke of York's).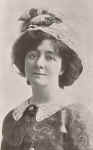 Cecilia Loftus, 1911
Click photo to enlarge
In her private life, she was less successful. Her first marriage floundered and the couple were divorced. In 1908, she married an American doctor, Alonzo Higbee Waterman, giving birth to a son the following year. In 1914, after a US tour with William Faversham (during which, among other roles, she played Juliet to his Romeo), she returned to England with both her marriage and her health in an unstable state. Always petite and frail, a series of operations after the premature birth of her child and her general unhappiness had made her increasingly dependent on alcohol and pain-killing drugs. This led to her acquiring a reputation in the theatre for inconsistency and unreliability.

In 1920, there was an acrimonious divorce. In November, 1922, she was arrested and charged with possession of atropine and morphine. After spending a night in a police cell, she was released on bail (a surety of £100 given by the actress Eva Moore) and at the Great Marlborough Street Magistrates Court, was put on probation for a year.

The following year, she left England for good, and sailed to New York where she made a rapturously-received return to the Palace Theatre. She continued to top the bill there throughout the 1920s. She also appeared in a dozen films and, in 1937, was tested for the role of Aunt Pity Pat for Gone with the Wind. Her final Broadway appearance was in Little Dark Horse (1941), playing an authoritarian grandmother. Her last stage appearance was in the 1942 tour of Arsenic and Old Lace.
Front cover of the program for The Devil Passes, Selwyn Theatre, January 18, 1932, with Cecilia Loftus, Basil Rathbone & Arthur Byron.
Historic American Sheet Music, Hannah 1906, Music B-633, Duke University Rare Book, Manuscript, and Special Collections Library.
Click photo to enlarge
Cecilia Loftus
died of a heart attack and the effects of alcoholism at the Lincoln Hotel, New York, on July 12, 1943. She was 66.
This is part of the Max Beerbohm's article "A Defence of Cosmetics" that was published in The Yellow Book, April 1894.
'Tush,' I can hear some damned flutterpate exclaim, 'girlishness and innocence are as strong and as permanent as womanhood itself! Why, a few months past, the whole town went mad over Miss Cissie Loftus! Was not hers a success of girlish innocence and the absence of rouge? If such things as these be outmoded, why was she so wildly popular?' Indeed, the triumph of that clever girl, whose debut made London nice even in August, is but another witness to the truth of my contention. In a very sophisticated time, simplicity has a new dulcedo. Hers was a success of contrast. Accustomed to clever malaperts like Miss Lloyd or Miss Reeve, whose experienced pouts and smiles under the sun-bonnet are a standing burlesque of innocence and girlishness, Demos was really delighted, for once and away, to see the real presentment of these things upon his stage. Coming after all those sly serious, coming so young and mere with her pink frock and straightly combed hair, Miss Cissie Loftus had the charm which things of another period often do possess. Besides, just as we adored her for the abrupt nod with which she was wont at first to acknowledge the applause, so we were glad for her to come upon the stage with nothing to tinge the ivory of her cheeks. It seemed so strange, that neglect of convention. To be behind footlights and not rouged! Yes, hers was a success of contrast. She was like a daisy in the window at Solomons'. She was delightful. And yet, such is the force of convention, that when last I saw her, playing in some burlesque at the Gaiety, her fringe was curled and her pretty face rouged with the best of them. And, if further need be to show the absurdity of having called her performance 'a triumph of naturalness over the jaded spirit of modernity,' let us reflect that the little mimic was not a real old-fashioned girl after all. She had none of that restless naturalness that would seem to have characterised the girl of the early Victorian days. She had no pretty ways - no smiles nor blushes nor tremors. Possibly Demos could not have stood a presentment of girlishness unrestrained.
But, with her grave insouciance, Miss Cissie Loftus had much of the reserve that is one of the factors of feminine perfection, and to most comes only, as I have said, with artifice. Her features played very, very slightly. And in truth, this may have been one of the reasons of her great success. For expression is but too often the ruin of a face; and, since we cannot, as yet, so order the circumstances of life that women shall never be betrayed into 'an unbecoming emotion,' when the brunette shall never have cause to blush nor La Gioconda to frown, the safest way by far is to create, by brush and pigments, artificial expression for every face...
This love poem was written by Cecilia Loftus's first husband, Justin Huntly McCarthy:
'If I Were King' -
Justin Huntly McCarthy
If I were king-ah love, if I were king!
What tributary nations would I bring
To stoop before your sceptre and to swear
Allegiance to your lips and eyes and hair.
Beneath your feet what treasures I would fling:-
The stars should be your pearls upon a string,
The world a ruby for your finger ring,
And you should have the sun and moon to wear
If I were king.
Let these wild dreams and wilder words take wing,
Deep in the woods I hear a shepherd sing
A simple ballad to a sylvan air,
Of love that ever finds your face more fair.
I could not give you any godlier thing
If I were king.
Go to the
INDEX PAGE
of 'The Golden Age of British Theatre'
---
You may also be interested in these associated sites:

Any suggestions or comments? Please
write
to me: