THE GOLDEN AGE OF BRITISH THEATRE (1880-1920)
by Sydney Higgins
Cyril Maude (1862-1951)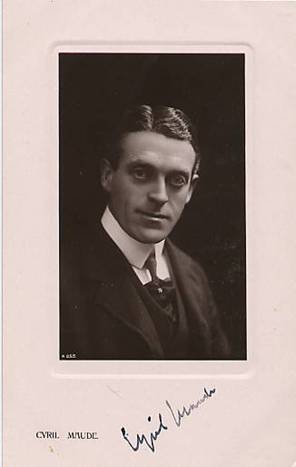 (signed postcard, gloss, Rotary Photo, p.255, c.1905)
Cyril Maude was born in London on April 24, 1862. His long and distinguished career as actor and theatre manager continued for some seventy years. He and Winifred Emery, whom he married, were amongst the highest regarded English stage personalities during much of the Golden Age.
One of their early successes was in Sydney Grundy's The New Woman which ran at the Comedy Theatre in 1894 for over a hundred performances. Winifred Emery starred as Margaret Armstrong and Cyril Maude played Colonel Cazenove.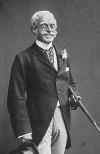 Col. Cazenove in
The New Woman.
Comedy Theatre,
September 1, 1894
Click photo to enlarge
From 1896-1905, Cyril Maude was, with Frederick Harrison, the joint manger of the Theatre Royal, Haymarket, London, where, each season, he presented an extremely popular and successful mix of a comedies, costume dramas and the occasional classic, in most of which he starred, sometimes with Winifred Emery.
Gaffer Jarge in
Gaffer Jarge.
Comedy Theatre,
January 11, 1896
Captain Laolle in
Under the Red Robe,
Theatre Royal,
October 17, 1896
Chevalier de Valclos in
A Marriage of Convenience,
Theatre Royal,
June 5, 1897
Rev. Gavin Dishart in
The Little Minister,
Theatre Royal,
November 6, 1897
Lord Bapchild in
The Manoeuvres of Jane,
Theatre Royal,
October 20, 1898
Click photo to enlarge
While at the Haymarket, Cyril Maude was invited by Bernard Shaw to present one of his early plays, If You Never Can Tell. On September 8, 1896, Shaw wrote to Ellen Terry: 'Harrison, Cyril Maude & Co appear to be making up their minds to ruin themselves with it.' However, after a period of rehearsals and after the construction of the scenery, the play was withdrawn and Shaw confided to a friend:
'Two of the leading parts proved too much for the resources of the Haymarket … The lady could not possibly have got through without strong support from the gentleman; and the gentleman … was hopelessly beaten by his part.' Later, Claude Maude recalled: '(Shaw) forced us into incomprehensible agreements by torturing us with endless talk until we were ready to sign anything rather than argue for another hour.'
Click photo to enlarge
Cyril Maude & Winifred Emery as
Sir Peter & Lady Teazle in
The School for Scandal,
Theatre Royal, Haymarket,
June 19, 1900
Two great successes at the Theatre Royal in 1900 were Cyril Maude's 1900 of She Stoops to Conquer, in which Cyril Maude played Hardcastle and Winifred Emery was Kate Hardcastle, and The School for Scandal in which they played Sir Peter and Lady Teazle.
After the Theatre Royal closed for refurbishment in 1904, Cyril Maude appeared in plays at several other theatres.
Captain James Barley,
Beauty and the Barge,
New Theatre,
August 30, 1904
Dr Pangloss in
The Heir-at-Law,
Waldorf Theatre,
March 20, 1906
Nathaniel Barron in
Shore Acres,
Waldorf Theatre,
May 21, 1906
Cast page of
the program for
The Flag Lieutenant,
The Playhouse
Click photo to enlarge
Cyril Maude then took over the Playhouse in Northumberland Avenue, where he presented light comedies, including The Flag Lieutenant, a New Naval Comedy in which he and Winifred Emery starred, with a cast that also included Lilian Braithwaite, C. Aubrey Smith, Ernest Mainwaring and Arthur Holmes-Gore.
Later, he took a company on tour, visiting the USA in 1913 and Australia and New Zealand in 1917. In the 1920s he continued to appear in light comedies, including Frederick Lonsdale's Aren't We All that, in 1923, ran for eight months. When, in 1926, he toured the United States in These Charming People, he was billed as 'England's Greatest Comedian'. In the 1930s, he was in half a dozen films, including starring in Grumpy (1930), a film version of the play he had presented in the United States during his 1913 tour.
On April 24, 1942, a special performance of The School for Scandal, with Vivien Leigh playing Lady Teazle, was presented at the Haymarket Theatre in aid of the RAF and Actors' Benevolent Funds and to honor Cyril Maude on his 80th birthday. But his career was not over. In 1947, he appeared - at the age of 85 - as the Old Admiral in the film While the Sun Shines.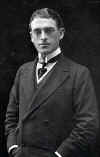 Click photo
to enlarge

Cyril Maude died, aged 89, at Torquay in Devon (GB) on February 20, 1951.
Go to the
INDEX PAGE
of 'The Golden Age of British Theatre'