THE GOLDEN AGE OF BRITISH THEATRE (1880-1920)
by Sydney Higgins
Daisy Wood (1877-1961)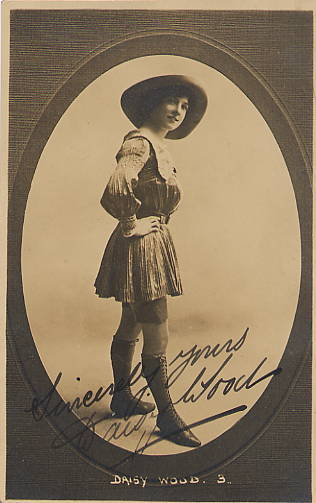 (signed postcard, matt, Carbonora, 3, c.1908)
Daisy (Violet Rose) Wood was born in the east End of London on September 15, 1877. She was the fifth of nine children. Her father, John Wood, made artificial flowers and, in the evenings, worked as a waiter in the Royal Eagle Tavern. Her mother, Matilda Mary Caroline, was a capable woman and a skilled dressmaker.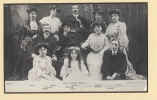 THE LLOYD FAMILY
Back row (l-r): Daisy Wood, Rosie, John, Grace, Alice.
Middle row: Father, Mother, Marie (Lloyd).
Front row:
Annie, Maud, Sydney.
Photo: Ian Munro
Click photo to enlarge
The eldest of the nine children was Matilda Alice Victoria Wood (1870-1922), who was to adopt the stage name, Marie Lloyd, and become the most loved star of her era - 'Our Marie', the legendary Queen of the Music Hall. In time, seven of the Wood children were on stage. Six used the name Lloyd. In addition to Marie, there was, Alice, Gracie, Rosie, Annie, Maud and Sydney. Daisy Wood was the only one of the family to go on stage under her own name.
That almost all the children became professional performers is not surprising. Marshalled by their eldest sister and costumed by their mother, they had formed the Fairy Bells Minstrels that had toured local church and mission halls. The group broke up when Marie Lloyd, at the age of fifteen, made her professional debut and, almost immediately, established herself as an enormous star. In turn and at a similar age, her sisters followed her and, although never achieving the same fame on stage (or infamy in their private lives) as Marie, all achieved considerable success.
Daisy Wood made her first professional stage appearance, at the age of thirteen, in a play entitled My Willie at the South London Palace on March 17, 1890. Generally thought to have been the prettiest of the sisters, she was petite, dainty and innocent-looking. She had an excellent voice and was an accomplished dancer. It was naturally, therefore, that she should follow her three elder sisters into the musical hall.
In 1893, when she was only just sixteen, she was one of the stars that took part in the grand reopening of the refurbished South London Palace. Similarly, on February 14, 1895, she appeared - as did her sister, Grace Lloyd - as one of the 'Star Artistes' in a special benefit at the New Pavilion Theatre, Mile End, that was billed as being 'The Largest Night of the Season'.
Shortly afterwards, while performing at the Crown Theatre, she met Donald Alexander Munro, an insurance broker who was chairman of the company that owned the theatre. They married on April 26, 1899. She was 21, five years younger than her husband. They moved to a mansion flat in Ashley Gardens, London, and Daisy Wood (now Mrs Daisy Munro) retired from the stage. Their son, Donald, was born in 1902, and their daughter, Dorothy Grace, in 1906. That year, the family acquired a new home in Palace Mansions, Kensington. In miles, it wasn't all that far from the East End where Daisy Wood had been born but, in a country with rigid social divides, she had moved a considerable distance and appeared to have a most prosperous future. Just over a year later, it Donald Munro fell ill and it was clear that, as his health declined, he would probably be unable to work. His wife, who was still in her twenties, decided that, if the family's fortune were to be maintained, she would again become a music-hall performer
At Christmas, 1907, Daisy Wood returned to the stage, starring in the pantomime, Jack and the Beanstalk at the Crown:
Marie Lloyd's other sister, Daisy Wood, was brought out of premature retirement to play the principal boy, and her charm and piquancy always captivated the 'gods'.


John M. East, 'Neath the Mask (1967)
When the pantomime closed, she performed her new song and dance act for the rest of the season in the myriad of London music halls such as the Chelsea, Hammersmith and Oxford.
Although the reasons for it were tragic, her decision to resume her theatrical career could not have been made at a better time. Because of the enormous success enjoyed by her sisters, especially Marie and Alice, she would be able - despite nearly a decade's absence from the stage - to return to the music hall at the top of the bill. It was also certain, once she was back, that she'd be able to earn substantial sums of money in the United States. There, in his fight to prevent the monopoly of major vaudeville bookings that the United Booking Office had all but achieved, William Morris (considered to have been 'the greatest independent showman of the Golden Age of Vaudeville') was offering British music-hall stars enormous salaries to appear in New York.
Early in September 1908, the British newspapers announced that Daisy Wood had been engaged by William Morris to appear in New York. She was one of many music-hall stars that included Marie Loftus, Harry Tate, Fred Karno and Harry Lauder who, the Daily Mail reported, would be earning 'a record salary'. Marie, Alice and Rosie all sailed to New York to perform at theatres on Morris's circuit, receiving considerable critical success and financial rewards.
Daisy Lloyd Wood, 'The Last of the Lloyds' - as she was billed - made her New York debut at Blaney's Lincoln Square Theatre on September 21, 1908. She was an instant hit. New York's Morning Telegraph reported, after the opening night:
Daisy Lloyd Wood is so winsome, so young, so everything that helps to imply how charming this young girl is... Little Daisy Wood need not bill herself as an English comedienne, for New York wants her and will not be denied.
After at an extended run at the Lincoln Square, she went on to play in other Morris theatres, including the Fulton Theatre, Brooklyn, and the Orpheum, Boston. Wherever she appeared, she won ovations and the hearts of her audience.
October 10, 1908
The New York Dramatic Mirror

A CHAT WITH DAISY WOOD
'I need not tell you how delighted I am with New York and the New Yorkers,' said charming little Daisy Wood to a Mirror representative as she sat in a big armchair in her sunny hotel room one morning last week.

'Ever since I have been here, it has been one sweet song of joy, without a discordant note. Mr. Morris has been more than kind, and everybody I have met, from callboy to manager, has been as nice as can be. I feel as much at home as if I had been here for months... Of course, I was very nervous at first, but the feeling has worn off, and I feel that I am among friends who like my work and wish me success.'

'How long have you been on the stage?' asked the interviewer.

'About eight years,' said the comedienne. 'You know I come from a family of performers. Most of them are known as Lloyd, but I thought I would use our family name for a change. They are billing me here as Daisy Lloyd-Wood, on account of the successes made here by my three sisters, but at home I am known simply as Daisy Wood. I am happy to say that I have made a little place for myself in England, and have been fortunate enough to have played the principal theatres in all of the big cities. I am sorry I can remain here for only ten weeks, as I am booked for the Princess Theatre, Bristol, as principal girl in the pantomime. This is the best pantomime theatre outside of London, and they usually have long runs.'

'How do you like the New York audiences?'

'Oh, they are simply splendid! They give you such attention and this of course encourages you to do your best. They seem to come ready to be entertained and join in the spirit of fun with great zest. You know I have a song called "Fishing for a Sweetheart" in which I use a net attached to a long pole. The men seem to enjoy it ever so much, and almost every time I put out the net it comes back with something in it. One night there was a dollar bill, and at other times a cigar, a penny and a box of chocolates. The night I got the candy, I opened the box and put one of them in my mouth. It was a big piece, and my mouth was so full of sweets that I couldn't sing for several seconds ...'

'Do you expect to come back to us again?'

'Indeed I do, if matters can be arranged. I have not a week open for a year or more, but I have had all sorts of offers, and I am looking forward to my next engagement here with the greatest delight.'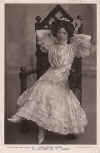 Daisy Wood
as 'Our Mary Ann' in Aladdin (1909).
Click photo to enlarge
On her return to England, Daisy Wood performed in the pantomime at Bristol and went on to present her popular musical act at the Crown Theatre and at many other theatres throughout the country.
On September 24, 1911, her husband died, aged only 39. Left a widow with two young children, Daisy Wood continued to work the halls and, in 1913, toured South Africa. Unlike many other stars at the time, including Marie Lloyd, she didn't squander her income. She put her son through public school and the London School of Economics.
She stopped performing her solo act in 1928, although, in the 1930s and during the Second World War, she occasionally appeared on stage with her sisters, Alice and Rosie.
Daisy Wood
died, at the age of 84, at her home in Banstead, Surrey, on October 19, 1961.
I gratefully give my thanks to Ian Munro, the grandson of Daisy Wood, who provided a
considerable amount of information, without which this article could not have been written
Sydney Higgins
Go to the
INDEX PAGE
of 'The Golden Age of British Theatre'
---
You may also be interested in these associated sites:

Any suggestions or comments? Please
write
to me: