THE GOLDEN AGE OF BRITISH THEATRE (1880-1920)
by Sydney Higgins
Gabrielle Ray (1883-1973)
(postcard, gloss, Philco, 3337C, c.1907)
Gabrielle Ray was born Gabrielle Elizabeth Clifford Cook on April 28, 1883, in Stockport, Cheshire (UK). She grew up to be a much admired and frequently photographed musical comedy star who, at the height of her fame, was described by the Paris Temps as being 'the most beautiful woman in the United Kingdom'.
Her stage career began, at the age of 10, when she became one of the surprisingly large number of juveniles then employed as needed by the stock companies that served the large number of theatres then found outside London's West End that have long since disappeared. Her debut appears to have made, in October 1893, in a musical play, Miami, at the Royal Princess's Theatre, Oxford Street.
In 1894, she played the daughter of the wronged hero in a production of Sir F C Burnand's Proof, a Celebrated Case, presented at the Elephant and Castle - a 1,400-seater, gas-lit theatre in the New Kent Road that catered exclusively for a working-class patrons who, as they watched the staple diet of melodramas, were wont to consume vast quantities of the beer, chips and fried fish sold in the large theatre bars. They knew what they liked. When a performer pleased them, they cheered and applauded. When this wasn't the case, they booed and screamed insults. It was a hard school for an eleven-year-old girl!
Later, Gabrielle Ray appeared as Breath of the Morning in Sinbad the Sailor, the 1899 pantomime at the Lyric Opera House, Hammersmith, where John East was the manager. As the large cast in his suburban pantomimes included many young performers who might be stars of the future, it was usual for East to invite several of the important commercial theatre managers to the opening night. On this occasion, it was Ben Greet who was impressed by Gabrielle Ray's dancing and signed the 16 year old to join one of his touring companies, playing Mamie Clancy in the musical comedy The Belle of New York. After this, she went on another Greet provincial tour, playing Dolly Twinkle in The Casino Girl, a musical farce written by Harry B. Smith and Ludwig Englander.
At the end of 1902, she returned to the Lyric, Hammersmith, to play once more in a John East's annual pantomime. On this occasion, it was Little Red Riding Hood and Gabrielle Ray played the lead.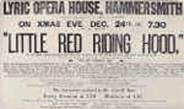 1902 Poster for Little Red Riding Hood
Click photo to enlarge
Early that evening, there was a gasp of admiration as an enchanting vision of loveliness floated on to the stage, with large blue eyes and a heart-shaped face framed in a mist of burnished golden hair. She moved with graceful fluidity; her dancing was such that her feet scarcely touched the boards.
This was Red Riding Hood herself. Her success was assured from that very first entrance. During the interval, everybody checked their programme for the name of this unknown artist. It was Gabrielle Ray, nineteen years of age, and at the threshold of her dazzling career.
Neath the Mask by John M. East (John East's grandson)
This time, it was the famous theatre manager, George Edwardes, that John East had invited to the opening night. Immediately after the final curtain, Edwardes contracted Gabrielle Ray, when her Hammersmith engagement was finished, to understudy the great Gertie Millar in The Toreador at the old Gaiety Theatre. (Gertie was only four years older that Gabrielle and they did look very similar.)
George Edwardes (1852-1916) did not create the musical comedy, but he was certainly its master. During its heyday from the late 1890s to 1918, he was the manager of the Gaiety and Daly's, presented productions in many other West End theatres and had some 16 touring companies constantly travelling around provincial and suburban theatres. He had a remarkable ability to select the people necessary to produce the three elements then necessary to ensure long runs and large profits - the music, the spectacle and, most importantly, the attractive young women who were the real superstars of the era. Gabrielle Ray was to be one of them.
When The Toreador came to an end, the Gaiety was closed for a total refurbishment. Edwardes moved Gabrielle Ray to the Apollo where she took over the role played by Letty Lind in The Girl From Kays, then nearing the end of what would be 432 performances. She played the part well and her prettiness and the amazing suppleness of her dancing ensured her success.
In her next show, she attracted considerable public interest. On October 26, 1903, in the presence of His Majesty King Edward VI and Queen Alexandra, the new Gaiety opened with the premiere of the musical comedy The Orchid. Gertie Millar had the lead but Gabrielle Ray took the major part of Thisbe. Although she was by no means a brilliant actress, her graceful acrobatic dancing with high kicks rising well above her head was sensational. So was she - especially in her big solo song-and-dance number when, wearing pink pyjamas, she performed her show stopper, 'The Pink Pyjama Girl'.
The Tatler, November 11, 1903
Miss Gabrielle Ray as Thisbe at the new Gaiety gives promise of qualifying to win a place in the long roll of famous dancers; Miss Ray is neither French or American as is surmised but comes from Lancashire.
Both the show and the showgirl were a huge success. The Orchid ran for 559 performances and Gabrielle Ray was well on her way to becoming one of the most photographed women of the Edwardian period.
She next appeared as one of the female stars in three moderately successful shows produced by Edwardes at The Prince of Wales - Lady Madcap, 1905; The Little Cherub, 1906; and See See (1906), with Lily Elsie in the lead.
On October 26, 1906, Les Merveilleuses, another Edwardes musical comedy, opened at Daly's Theatre, Leicester Square. It was received with considerable critical acclaim but it was not popular with the public. (It has been suggested that this was because people were too embarrassed to buy tickets for a show when they were uncertain how to pronounce its name!) Edwardes took off the show, had the script revised and new songs added, renamed it The Lady Dandies, and made changes to the cast that included replacing Maude Percival, who played Egl', with Gabrielle Ray. Her enlarged part included a new duet and dance with Willie Warde, entitled 'I Always Come Back to You'. It was quite a hit and was included in a special charity matinée held at Drury Lane on March 5, 1907, in aid of the Lord Mayor's Cripple Fund. The Lady Dandies proved, however, to be no more successful than its original.
Faced with having quickly to find a replacement, Edwardes commissioned a virtual rewriting of Franz Lehar's The Merry Widow. Opening at Daly's on June 8, 1907, it starred Lily Elsie and Joseph Coyne. Gabrielle Ray was Frou Frou. The show became Edwardes's biggest hit, running for 778 performances and, to the annoyance of many theatre-goers at the time, popularized the wearing by fashionable women of large brimmed Merry Widow Hats, modeled on those sported by Lily Elsie in the show. It was, however, Gabrielle Ray that produced the show-stopper - a whirling dance routine with handstands and high kicks, all performed on a table at Maxim's, held head-height by four men.
She stayed on at Daly's for the next production, The Dollar Princess. Again starring Lily Elsie, it opened in September 1909. In 1911, Gabrielle Ray played Polly Polino in Peggy at the Gaiety. At the time, musical comedies had absorbed the tradition of the musical hall - that the female singers and dancers had an unending succession of quick costume changes. The Play Pictorial describes a few of Gabrielle Ray's costumes in Peggy:
[Her] bathing costume was fascinating - in flesh colour and coral, with white sandaled shoes. A very pretty crepe de chine mantle, with wide sailor collar at back, cut into points from which hung long tassels, and a chic little pink swathed cap.
In the juggling duet, she slips off her coat and quick changes into a spangled purple shirt, beautifully embroidered in tulips of all colours. The skirt is elaborately lined with pink gauged chiffon. She also looks very sweet in the naval officer's cap and epaulettes - another quick change.
When Peggy ended its successful run, it was announced that Gabrielle Ray was retiring from the stage in order to marry Eric Loder. The wedding was arranged for February 29, 1912, at St Edwards Roman Catholic Church, Windsor. Thousands of spectators turned up, some of them before dawn. At 10.30, the bridegroom arrived. He, the guests and everybody else waited and waited. But the bride did not arrive and the wedding was cancelled. The couple did marry shortly afterwards but Gabrielle Ray's premonitions had been correct. They were divorced two years later.
John Culme explains:
'In the case of Gabrielle Ray and Eric Loder, I think it is probably best to say that they were utterly incompatible. In fact, it was a matter of some surprise to their respective friends that the marriage was ever contemplated in the first place. Whereas she was a child of the theatre and a dancer by nature, he came from a racing family and had outdoor interests ranging from big game hunting to driving fast cars. She was also several years older than her husband.'
In 1915, she returned to Daly's Theatre to play in the musical comedy Betty and, the following year, she was in Flying Colours at the London Hippodrome. She was still a gifted and creative dancer but was clearly emotionally scarred. These were her last appearances in the West End. For nearly a decade, she appeared spasmodically in provincial pantomimes and variety tours.
Eventually, a destructive combination of depression and alcohol on top of her obviously eccentric character brought about a total breakdown in health. From her ex-husband, Eric Loder, she continued to receive help and the financial support that had been part of her marriage settlement.
Tragically, in 1936, Gabrielle Ray had a total nervous breakdown and was taken to a mental hospital. She was to be institutionalized for nearly forty years.
GABRIELLE RAY

Click photo to enlarge
Gabrielle Ray,
once described as the 'the most beautiful woman in the United Kingdom'. died, childless and all but forgotten, at the age of 90 on May 21, 1973.
I gratefully acknowledge the help I obtained in writing this article from
John Culme, the webmaster of the excellent Footlight Notes, and from
John M East's book, 'Neath the Mask'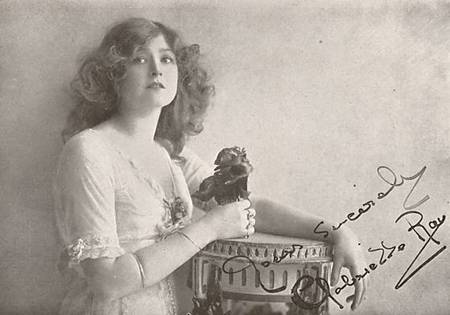 Gabrielle Ray in 1911 - at the height of her fame
Cecil Beaton, the great fashion photographer and the designer of the costumes for My Fair Lady, wrote that one of his earliest memories was being taken to see The Merry Widow. It long remained in his memory and had a clear effect on his fashion photography. His My Fair Lady costumes were a retrospective tribute to The Merry Widow. In his book, The Glass of Fashion (1954), he writes about Gabrielle Ray:
Lily Elsie, the star of the operettas in which Miss Ray appeared, was to tell me many years later of some of her colleague's experiments in make-up. A past mistress of pointillism, Gabrielle Ray would, for her stage appearance, put mauve and green dots at the edges of her eyes, with little red and mauve dots at the corner of her nostrils. As meticulously as Seurat working over one of his canvases, she shaded her eyelids and temples in different colours of the mushroom, while her cheeks were tinted with varying pinks from coral to bois de rose. The chin was touched with a hare's-foot brush dipped in terracotta powder, and the lobes of the ears and the tip of the nose would be flicked with salmon colour. Thus painted Gabrielle Ray appeared before the audience enamelled like a china doll.
Perhaps better than any other actress, this dancer knew how to pose for a photographer. Doubtless she was one of those forerunners of photographic facial surgery, for she would have a piece of silk thread held under her nose by assistants who stood at either side of her, uptilting the nose just the amount that she wished. With little talent but much imagination, Gabrielle Ray, during her brief career, turned herself into a small work of art.
Go to the
INDEX PAGE
of 'The Golden Age of British Theatre'