THE GOLDEN AGE OF BRITISH THEATRE (1880-1920)
by Sydney Higgins
Isabel Jay (1879-1927)
As Princess Stephanie in The Balkan Princess
(signed postcard, gloss, Rotary Photo, 1198D, c.1910)
As Christine (with Bertram Wallis) in Dear Little Denmark
(signed postcard, gloss, Rotary Photo 748I, c.1910)

Isabel Jay was born in Wandsworth, London, on October 17, 1879. Hers was a musical family and she began singing in public when she was twelve. In 1895, she entered the Royal Academy of Music where, at the end of her course in July 1897, she became the first student to be awarded the Gilbert R. Betjemann medal for operatic singing.
The same month, she signed a three-year contract with the D'Oyly Carte Opera Company. Within days, she was given a weeks try-out, singing Elsie Maynard in the first London revival of The Yeomen of the Guard. It was immediately clear that this beautiful young woman, with her pleasant personality and superb voice, would have a very successful singing career. She immediately joined one of the D'Oyly Carte touring opera companies as principal soprano and, during the following season, sang Phyllis in Iolanthe, Yum-Yum in The Mikado, Elsie in Yeomen, Princess Lucilla Chloris in His Majesty, Aline in The Sorcerer, and Mabel in The Pirates of Penzance.
In August 1898, she joined the main D'Oyly Carte company at the Savoy Theatre. For a few weeks, she was an understudy to Emmie Owen and Ruth Vincent in a revival of The Gondoliers. Then she was given her first part, playing the Plaintiff in Trial by Jury, in a revival (with The Sorcerer) that ran from September to December, 1898.
The Sunday Times, September 25, 1898
Dear old Trial by Jury once more furnishes the concluding section of a most agreeable musical evening. I do not remember a more engaging Plaintiff than Miss Isabel Jay, a pretty girl with a pretty voice.
She next played the minor part of Aloes in The Lucky Star from January 7 to May 31, 1899. This was immediately followed, from June 6 to November 25, 1899, by again playing the Plaintiff in another revival of Trial by Jury - apart from a few occasions when she stood in for Ruth Vincent as Josephine in H.M.S. Pinafore, the other half of the double-bill.
The next production was The Rose of Persia (libretto by Basil Hood & music by Arthur Sullivan), scheduled to open on November 29, 1899. Arthur Sullivan had engaged American coloratura soprano Ellen Beach Yaw to sing the title role of Sultana Zubeydah. She had an incredible vocal range that Sullivan decided to showcase by writing music for her that required her to hit a top F in her first song. Ruth Vincent , who had expected to be given the leading sopranos role, was, instead, given the comparatively minor part of Scent of Lillies. This so incensed her that she resigned from the company and her part was reallocated to Jessie Rose (although, later in the season, it was taken over by Decima Moore). Isabel Jay created the role of Blush of Morning in the production.
Although critics expressed their approval of the new work when it opened on November 29, 1899, several expressed doubts as to whether Miss Yaw would be able to perform the high-note cadenza night after night. In the event, she didn't. After a couple of weeks, Mrs. D'Oyly Carte sacked her. The part was given to Isabel Jay. She was an enormous success and the opera ran until June 29, 1900. From then till she left the D'Oyly Carte Opera Company, she was its leading soprano.
In the next production, from June 30 to November 5, 1900, she played Mabel in The Pirates of Penzance:
Click photo to enlarge

The Era

Miss Isabel Jay's bright, alert acting and fascinating personality would have condoned many deficiencies. But in addition to winning all hearts by her freshness and earnestness, Miss Jay gave us a delightfully easy and accomplished rendering of her share of the score, and the way in which she used a very valuable voice told of sound training and keen intelligence.
This success was followed by her playing the title role in the first London revival of Patience - from November 7, 1900 to April 20, 1901. During the run, Isabel Jay was made an associate of The Royal Academy of Music.
The Era

Miss Jay is in possession of a fresh and excellent voice and, although she may not be so experienced an actress as the gifted lady [Leonora Braham] who created the part, she is endowed with sufficient nous to give refreshing piquancy to the lines with which she is entrusted.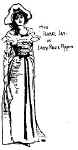 Click photo to enlarge
She next created the roles of Lady Rose Pippin in The Emerald Isle (April 27 to November 8, 1901) and the Gipsy Woman in the short-lived Ib and Little Christina (November 14 to 19, 1901), before playing Phyllis in the first London revival of Iolanthe (December 7, 1901 to March 29, 1902).
That was to be her last performance for the D'Oyly Carte company she had belonged to for five years. It was obviously a considerable wrench. It is reported that, in one of her last performances, she broke down during one of her songs and had to leave the stage. Later she declared: I do not think any part of my stage career yielded so much pleasure as my five years association with the Savoy operas, she was to write more than twenty years later. But her theatrical career was not at an end and far greater successes lay ahead.
Isabel Jay left the Savoy to marry, on April 16, 1902, Henry Cavendish, the African explorer who was later to become the 6th Baron Waterpark. For 18 months, Isabel Jay was away from the stage, during which time she gave birth to a daughter, Cecilia, who was born on June 11, 1903.
Her singing career was re-launched with a couple of successful musical plays - Lionel Moncktons A Country Girl at Dalys Theatre (where she took over the soprano role on October 24, 1903) and The Cingalee (which opened at Dalys on March 5, 1904). The music for both was written by Paul A. Rubens (1875-1917).
Now firmly re-established as a West End star , Isabel Jay was invited to sing before King Edward VII and Queen Alexandra at Chatsworth on January 5, 1905. Afterwards, she was presented with a brooch by the Queen.
Next, Isabel Jay starred in the London premiere of Andr Messagers opera Veronique that opened on April 22, 1905, at the Apollo Theatre and her performance was received with tumultuous acclaim. She was then engaged by Frank Curzon to star in the long-running success, The White Chrysanthemum, that opened at the Criterion Theatre on August, 1905. Her co-star was Henry Lytton (1865-1936) the D'Oyly Carte mainstay with whom she had appeared in the 1899 revival of Trial by Jury.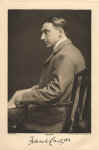 Frank Curzon Click photo to enlarge
Frank Curzon (1869-1927), was an actor who had become an important theatre manager, the lessee of the Avenue, Criterion, Comedy, Prince of Wales and Wyndhams theatres. A superb publicist, administrator and director, he had already produced a string of long-running hits. With Isabel Jay, he was to create even more.
Her next long-running triumph was The Girl behind the Counter, which opened at Wyndhams on April 21, 1906. Her theatrical career was obviously successful: her marriage was not and, later in the year, it was dissolved.
On December 12, 1906, Liza Lehmanns The Vicar Of Wakefield that opened at the Prince of Wales Theatre, starring Isabel Jay. It was a flop. Including the Manchester tryout, it survived for only nine weeks. The fault was with the wordy libretto and not with the excellent cast that included the famous American baritone David Bispham, who later declared, In the charming Miss Isabel Jay, I had the one woman on the London stage who filled the eye as well as the ear in her rendering of the part of the wayward but captivating Olivia.
At this point, Frank Curzon, as always correctly reading the publics mood, decided to commission a series of spectacular musical plays that would star Isabel Jay at the Prince of Wales Theatre. The person he engaged to be composer, principal book author and sole lyricist was Paul A Rubens. His brief was simple - memorable tunes were essential, while the main requirement of the story was that it provided plenty of opportunities for exotic sets, elaborate costumes and a host of beautiful chorus girls. That is exactly what Rubens provided.
His first work for Curzon, Miss Hook of Holland, had a Dutch setting. Opening on December 3, 1906, it ran for over a year. This was followed by My Mimosa Maid (set on the French Riviera) that despite an impressive cast, including G P Huntley, George Barrett, Maurice Farkoa, Gracie Leigh, and Eva Kelly (Mrs G P Huntley), had a brief run, surviving only from April 21 to July 11, 1908.
As a result of this disappointment, Curzon turned to other writers to produce the next showcase for Isabel Jay. With a book by Frederick Lonsdale and music by Sydney Jones, King of Cadonia, that opened on September 3, 1908, was a considerable critical and commercial success.
King of Cadonia
Souvenir of 200th Performance
March 19, 1909

Front cover
Portrait of
Isabel Jay
Portrait of
Isabel Jay
Click photo to enlarge
The next two shows in which she starred were again written by Rubens - Dear Little Denmark (which opened on September, 1909) and The Balkan Princess (which opened on February 19, 1910). Although neither were memorable, Isabel Jays enormous star quality ensured their success.
On July 28, 1910, Isabel Jay and Frank Curzon were married.
At the end of the run of The Balkan Princess, on April 29, 1911, she announced her retirement from the stage. On September 20, 1915, she gave birth to her second daughter, Pamela Stephanie.
Her considerable vocal accomplishments had brought her stardom in operetta, modern opera and musical plays. It might have been assumed that she might again have resumed her illustrious career. But it was not to be.
In time, as a result of the scarlet fever she had contracted as a child, her health began to deteriorate.
Isabel Jay

1908 -
as Paulette in My Mimosa Maid
With her sister, Ethel
Click photo to enlarge

Isabel Jay died, aged 47, on February 26, 1927, at Monte Carlo. She had been on a cruise with her second husband.
Two years after her death, the Royal Academy of Music instituted the Isabel Jay Memorial Prize in her memory.
I gratefully acknowledge the considerable help I received in writing this article
from both Fiona Dunn (the grand-daughter of Isabel Jay), and
John Cannon (the hon. archivist to The Gilbert and Sullivan Society).
Go to the
INDEX PAGE
of 'The Golden Age of British Theatre'
---
You may also be interested in these associated sites:

Any suggestions or comments? Please
write
to me: