THE GOLDEN AGE OF BRITISH THEATRE (1880-1920)
by Sydney Higgins
Zena Dare (1887-1975)
Zena Dare was born Florence Hariette Zena Dones on February 4, 1887. Her first stage engagement was with her younger sister Phyllis in the 1899 pantomime, Babes In The Wood at the Coronet Theatre. Their surname was changed to 'Dare' for their performance.
ZENA DARE


in Lady Madcap
Click photo to enlarge
In 1902, at the age of 14, she went on tour with Seymour Hicks's Company, playing Daisy Maitland in the musical comedy An English Daisy. After the tour, in 1904, Frank Curzon signed her to play the juvenile lead of Aurora Brue in Sergeant Brue. In September, Curzon released her from her contact because Hicks needed an urgent replacement for his pregnant wife, Ellaline Terriss, who had been playing the lead in The Catch of The Season, a retelling of he Cinderella story. Zena Dare was a great success but, in mid-December, she had to surrender the part to her sister because she was already contracted to appear at Bristol in the pantomime The Sleeping Beauty.
After the pantomime, in 1905, George Edwardes signed her to appear at the Prince of Wales's Theatre, where she had important roles in the next three productions: Lady Madcap in the musical comedy Lady Madcap; Lady Elizabeth Congress in The Little Cherub; and the title part in The Girl on Stage. In January 1906, she returned to Seymour Hicks's Company. She was to stay for four years, playing roles including Betty Siverthorne in The Beauty of Bath (1906) at Hicks's new theatre the Aldwych; and Victoria Siddons, the second lead, in The Gay Gordons (1907) at the Aldwych and, when the production went on tour, she played the lead, Peggy Quainton.
In 1909, one of Hicks's musical comedies, Dashing Little Duke, failed disastrously. It fared somewhat better on a national tour (1910), when she took over the role of the Duc de Richelieu, originally played by Ellaline Terriss. The tour, however, did little to solve the financial problems Seymour Hicks was experiencing and he decided that, in the following year, he would take his company on a tour of South Africa. Zena Dare did not go with him. A much loved public figure and a society beauty, she had fallen in love with and, in January 1911, married the Hon. Maurice Vyner Baliol Brett, the second son of the second Viscount Esher. She then announced her retirement from the stage. She was 23.
ZENA DARE

Click photo to enlarge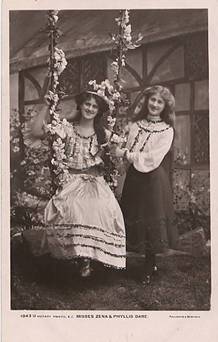 ZENA & PHYLLIS DARE
She moved with a husband to a splendid home in Chilston, near Ascot, and, over the next few years, had a son and two daughters. During the First World War, she spent three years at Mrs Vanderbilt's American Hospital in France, nursing injured and dying soldiers.
In January 1926, after an absence of 15 years, she returned to the stage, taking the lead role in a national tour of The Last of Mrs Cheyney. In January 1928, at the Playhouse, she took over a role in S. N. Behrman's The Second Man that was staring Noel Coward. During 1928 and 1929, she took her own company to tour South Africa and, on her return, succeeded in the title part of St. John Ervine's The First Mrs Fraser. In 1930, she toured in Other Men's Wives and Cynara. At Christmas in 1931 and 1932, she played Mrs Darling in Peter Pan at the Palladium.
Ivor Novello, who had a liking for middle-aged actresses, had been impressed by Zena Dare when she had appeared with her in 1928. He invited her to play the part of his stage mother, Lady Raynor, in his new play, Proscenium, that opened at the Globe Theatre on January 14, 1933, starring Novello and Fay Compton. It was to be the beginning of a fruitful partnership.
In 1934, her much-loved husband died. Afterwards, she played in Novello's Murder in Mayfair that opened at the Globe on September 5, 1934, again starring him and Fay Compton. She was next giving third billing - after Ivor Novello and Dorothy Dickson - in his second musical, Careless Rapture. It opened at the Theatre Royal, Drury Lane, on September 11, 1936, and ran for 295 performances. After this huge success, she played a supporting role, as did Margaret Rutherford, in Miss M. J. Farrell and John Perry's comedy, Spring Meeting that was directed by John Gielgud.
She continued to work throughout the Second World War including, in 1940, appearing on stage - for the first time for 41 years with her sister Phyllis during a tour of Novello's Full House (that had first been first presented in 1935). In 1945, she took over from Margaret Rutherford the part of Lady Charlotte Fayre in Novello's hit musical, Perchance to Dream. After this long-running show, both Zena and Phyllis were given major parts in Novello's King's Rhapsody that opened on September 15, 1949, and ran for almost two years. During the run, on March 6, 1951, Ivor Novello, who had the lead role, died in his London flat above the Strand Theatre, just four hours after performing in the musical. His part was taken by Jack Buchanan.
In 1954, Zena Dare played Julia Ward Mckinlock in Sabrina Fair at the Palace Theatre, then played Edith Billingsley in Double Image at the Savoy, and later took over the part of the bogus painter's widow from Joyce Carey in Noel Coward's Nude With Violin (1954), produced at the Globe Theatre.
There was to be one major, phenomenal success in her theatrical career. She was cast as Mrs Higgins in the British production of the musical My Fair Lady that opened on April 29, 1958. It ran for just over five and a half years and its 2281 performances were seen by almost four and a half million people. Zena Dare was the only one of the principal performers to stay for the complete run. When the show closed, she ended her two-part stage career that had started nearly sixty years earlier.

Zena Dare died on March 11, 1975, aged 87. Her younger sister, Phyllis, died just six weeks later.
Go to the
INDEX PAGE
of 'The Golden Age of British Theatre'