THE GOLDEN AGE OF BRITISH THEATRE (1880-1920)
by Sydney Higgins
Arthur Bourchier (1863-1927)
| | |
| --- | --- |
| | |
| (signed postcard, matt, Beagles, 214, c.1905) | (signed postcard, matt, Beagles, 147C, c.1905) |
Arthur Bourchier was born at Speen, Berkshire (GB). As a student at Oxford, he joined the University Drama Society and began his acting career and his life-long interest in the staging of Shakespeare's plays.
In 1889, he joined Lillie Langtry's Company and made his professional debut in Wolverhampton as Jacques in As You Like It. In February 1890, Lillie Langtry took over the management of the St. James's Theatre where she presented presenting As You Like It and Grundy's Esther Sandraz. In June, she was taken ill and Bourchier (who, at the time, was only 26) took over as manager. Lacking experience and credibility, he failed disastrously and the theatre closed in July.
For the following decade, he acted with several companies, including George Alexander's. In 1894, he married Violet Vanbrugh and the couple then went to New York to join Augustin Daly, to whose inspired but rigorous training scores of actors owed their subsequent successes.

Arthur Bourchier in the title role of The Bishop's Move (1902)
Plate in Players of the Day,
published in London by George Newnes, 1902.
In 1900, Bourchier briefly entered the joint management of the Criterion Theatre, London, with Charles Wyndham who was, at the time, preoccupied with the new Wyndham Theatre that had opened towards the end of the previous year. The following season, Bourchier took over the management of the Garrick Theatre in Charing Cross Road. He stayed there until 1906. Indeed, it might be said that he is there still, because there have often been reports of his ghost having been seen in the theatre!
Although a theatre manager, he continued to act - as he did every season from his first in 1889 until 1924, three years before his death. In 1902, he took the lead in The Bishop's Move, which was partially written by John Oliver Hobbes, the nom de plume of Pearl Mary Teresa Craigie (1867-1906), the American born, English playwright and Catholic convert.
A couple of years after leaving the Garrick Theatre, he joined Herbert Beerbohm Tree's company at His Majesty's Theatre. Playing in Tree's lavish Shakespeare productions, he enjoyed considerable success. In 1910, he played the title role to Tree's Cardinal Wolsey in Henry VIII. The following year, he appeared in five more Shakespeare plays, including Macduff in Macbeth and a memorable portrayal of Bottom in A Midsummer Night's Dream. The same year, he and Violet Vanbrugh were also in a silent film version of Henry VIII.
Shakespeare plays continued to be a major part of his work for the rest of his career, his interpretation of the roles being acclaimed by both the general public and most critics. In 1915, he revived his part as Henry VIII in a benefit to aid the war effort. The following Year was the Shakespeare Tercentenary and Bourchier played in several more of the Bard's plays.
However, it was not Shakespeare that brought him his greatest success. In 1917, he starred as Old Bill in Bruce Bairnsfather's The Better 'Ole at the Oxford Theatre, London. It ran for fifteen months.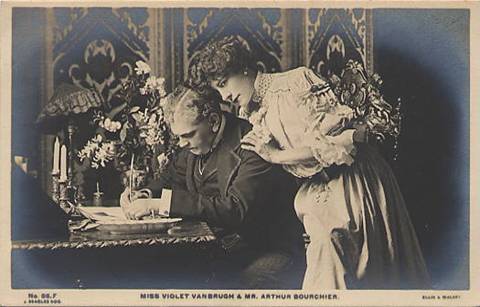 Violet Vanbrugh & Arthur Bourchier, c.1910.
It was during this period, that his marriage finally disintegrated and, in 1918, he and Violet Vanbrugh were divorced. Their daughter, Prudence Vanbrugh, also became an actor.
Shortly before Bourchier retired from the stage, he had another considerable success. For 123 performances - from December 23, 1922 to April 7, 1923 - he played Long John Silver in his production of Treasure Island at the Strand Theatre.
On the 23 April, 1923, he took part with other famous actors, including Basil Gill, in an early broadcast on 2LO - the first radio tribute on Shakespeare's birthday, consisting of a presentation of eight scenes from his plays by the British Empire Shakespeare Society.
Arthur Bourchier was not universally admired. There were some who thought he had far too high an opinion of himself. One such was W. S Gilbert who, when it was announced that Bourchier was to play Hamlet, said:
'At last we can settle whether Bacon or Shakespeare wrote the plays. Have both the coffins opened and whichever has turned in his grave is the author.'

Arthur Bourchier died in Johannesburg, South Africa, on September 14, 1927.
Go to the
INDEX PAGE
of 'The Golden Age of British Theatre'