THE GOLDEN AGE OF BRITISH THEATRE (1880-1920)
by Sydney Higgins
Violet Vanbrugh (1867-1942)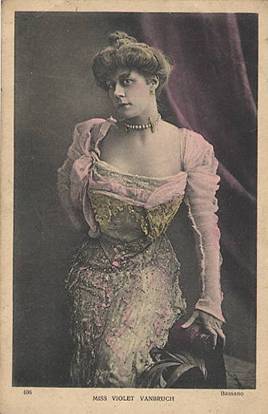 (hand-tinted postcard, matt, Bassano, 406, c.1902)
Violet Vanbrugh (originally known as Violet Augusta Mary Barnes) was born in Exeter (GB) on June 11, 1867. Her younger sister, who became Dame Irene Vanbrugh, was also a distinguished actress.
After attending schools in France and Germany, she decided on a theatrical career and, encouraged by Ellen Terry, she obtained her first professional sole in the 1886 production of R C Burnard's Baust and Loose at Toole's Theatre. Later that years, she had her West End debut, playing Ellen in The Little Pilgrims. After a period touring, during which she played important roles in several Shakespearian productions, she returned to London and, in 1889, joined the Kendals' company at the Royal Court Theatre, first playing Lady Gillingham in The Weaker Sex. Later, that year she went with the company on an extended tour of the United States. Returning to England in 1891, she joined Henry Irving and Ellen Terry at the Lyceum where she won acclaim for her performance of Anne Boleyn in King Henry VIII.
In 1893, she acted with Arthur Bourchier in Love in Tandem at Daly's Theatre. The following year, the couple married. When Bourchier took over the lease of the Royalty Theatre in 1895, he and Violet Vanbrugh starred in a run of successes that continued when her husband took over the management of the Garrick Theatre.
In 1902, she gave birth to a daughter, Prudence Bourchier. Later she became an actress who, like her mother, took the stage-name Vanbrugh.
Violet Vanbrugh quickly returned to working at the Garrick and her triumphs included, in 1904, Alfred Sutro's The Walls of Jericho, that ran for 423 performances. By the command of Edward VII, she played Portia in her husband's production of Shakespeare's The Merchant of Venice that was presented at Windsor Castle in 1905.
For the next decade, Violet Vanbrugh's theatrical career was inseparably intertwined with her husband's but, during World War, it became obvious that his over-bearing attitude was creating problems. After a tour in 1916, the couple separated and, in 1919, divorced. Bourchier remarried a much younger actress, Violet Marion Kyrle Bellew, but Violet Vanbrugh never remarried.
She continued acting regularly until 1939, also appearing in several films, including Pygmalion (1938) with Leslie Howard and Wendy Hiller. Her last film appearance was in Young Man's Fancy (1940).
Although she was considered to have been a talented and beautiful actress, her career was certainly somewhat subjugated by that of her husband's.
Violet Vanbrugh
(as Portia) &
Arthur Bourchier
(as Shylock) in
The Merchant of
Venice.
Postcard signed
by both
Violet Vanbrugh &
Jerrold Robertshaw
c.1906
Violet Vanbrugh -
photo in the program
for a charity matinée
at the London Hippodrome,
October 6, 1911
Violet Vanbrugh -
photo in the program
for Evensong
in which she starred
with Edith Evans at the Queen's Theatre,
July, 1932
Click photo for enlargement
Violet Vanbrugh
died in London on November 10, 1942.
Go to the
INDEX PAGE
of 'The Golden Age of British Theatre'