THE GOLDEN AGE OF BRITISH THEATRE (1880-1920)
by Sydney Higgins
Irene Vanbrugh (1872-1949)
| | |
| --- | --- |
| | |
| (signed postcard, glossy, Rotary, 1809L, c.1908) | (glossy postcard, Aristophot, E1610, c.1905) |
Irene Vanbrugh (or Irene Barnes as she was first named) was born in Exeter (UK) on December 2, 1872. Her father was Dean of Exeter and, when she and her older sister, Violet Vanbrugh, set out on their distinguished theatrical careers, they were generally considered to have been the first daughters of a 'good family' to go on stage.
Irene's stage career began in August 1888 when, at the age of fifteen, she played Phoebe in As You Like it at the Theatre Royal in Margate, where she next played Titania. After a couple of promising seasons in the provinces, she moved to the West End, appearing in J. M Barrie's first and successful play, Ibsen's Ghost. It opened on May 30, 1891, at Toole's Theatre with a cast headed by Sir Henry Irving and J. L. Toole. Barrie, who had something of an obsession with beautiful young actresses, was delighted with her performance and, as a result, she was also cast in his second play, Walker, London, that was presented in 1892 at the Duke of York's Theatre as part of Harley Granville-Barker's ground-breaking repertory season. Playing opposite her was another attractive young actress, Mary Ansell who, two years later, Barrie married.
In 1893, Irene Vanbrugh joined Beerbohm Tree's company at the Haymarket Theatre. In 1894, she played the Countess Olivia in Augustin Daly's popular production of Twelfth Night. It ran for 111 performances at the Daly Theatre, London, opening on January 8 and closing on April 28.
More interested in the modern rather than the classical repertoire, she joined George Alexander's company, at first on tour. On February 14, 1895, at St James's Theatre, she created the role of the Hon. Gwendolen Fairfax in the first performance of Oscar Wilde's The Importance of Being Earnest. George Alexander played John Worthing.
After her highly-praised performance, Irene Vanbrugh continued to appear in new and important modern dramas, including Arthur Wing Pinero's The Gay Lord Quex in which she starred opposite Sir John Hare who also directed the play that opened on June 1, 1899.
Her reputation firmly established as being one of the great stars of London's West End, she married, in 1901, Dion Boucicault (1859-1929), and actor, director and playwright, who was the son of the famous Scottish actress, Agnes Robertson (1833-1916), and the influential Irish actor and playwright whose name he shared.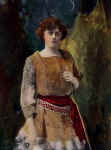 Irene Vanbrugh in
The Admirable Crichton
Click Photo to enlarge
As one of Britain's highest regarded dramatic actresses, Irene Vanbrugh continued, after her marriage, to chose her own parts and to be constantly in demand. Sometimes, but not always, she did work with her husband and, separately and together, both were involved in many of J M Barrie's plays. In 1902, Irene Vanbrugh appeared in the first production of Barrie's The Admirable Crichton. Dion Boucicault directed the first production of Peter Pan that was an instant success when it opened at the Duke of York's Theatre in London on December 27, 1904. His sister, Nina Boucicault, who was then 37 years old, played the title role.
The same year, Sir Herbert Beerbohm Tree established an Academy of Dramatic Art at His Majesty's Theatre in the Haymarket. In 1905, the Academy moved to its own premises and, shortly afterwards, Irene Vanbrugh was invited to join the Managing Council that already, in addition to Tree, included her friends, J. M. Barrie and Arthur Wing Pinero. (In 1909, her younger brother, Kenneth Barnes, was made the Principal of what, in 1920, became the Royal Academy of Dramatic Art. He held the post till 1955. Throughout her life, Irene Vanbrugh was an enthusiastic supporter of the Academy, and the students' theatre there was named 'The Vanbrugh' in her honor.)
In the early 1910s, Irene Vanbrugh appeared in a succession of Barrie plays, including Rosalind (which opened on October 14, 1912, at the Duke of York's Theatre), a one-act play Half an Hour (September 29, 1913, at the London Hippodrome), and a one-act comedy Seven Women (April 7, 1917 at the New Theatre). In 1916, Barrie also wrote Irene Vanbrugh's Pantomime for her.
After World War I, Irene Vanbrugh continued to be a West End star. She and her husband played the leads in Mr Pim Passes By, A A Milne's first theatrical hit. It opened on January 5, 1920, and ran for 246 performances. In the cast was a young man making his London stage debut: his name was Leslie Howard.
In 1921, G B Shaw invited Irene Vanbrugh to star in and Dion Boucicault to direct his latest play Jitta's Atonement. They were so busy that they had to decline. Perhaps it was just as well. The play did not have its premiere until January 17, 1923 at the Shubert Theatre, New York, to a less than enthusiastic reception. It was not presented in Great Britain for another two years when Shaw arranged for it to be performed during a provincial tour organized by Irene Vanbrugh's older sister Violet. The other play in the program was The Letter of the Law by Kenneth Barnes, Violet and Irene's brother. The tour was not a success.
In the mid-1920s, the health of Dion Boucicault, who was in his mid-sixties, began to decline and Irene Vanbrugh was absent for a while from the West End. On her return, she was greeted with universal critical praise. In March, 1926, she starred in All the King's Horses by Charles Elton Openshaw at the Globe Theatre in Shaftesbury Avenue, transferring on April 5 to the Playhouse, Charing Cross.
The Theatre World, April, 1926
In an age in which we are surrounded by the first-class second-rate, it is well from time to time to adjust our standards. There is the danger that we may mistake mere painstaking talent for genius, or beauty, equipped by every subtlety of the dress designer, for personality. We can set ourselves right by a visit to All the King's Horses. But the standard set there by Irene Vanbrugh of what great acting should be, is so high that we come away without critical facilities sharpened and a conviction that if this is what really ought to be, we have been perilously near to accepting well-meant, complacent effort for the real thing. But then Irene Vanbrugh should not leave this hapless country to its fate, theatrically speaking, for so great a length of time.
As Mrs. Everitt, as a refuge against her husband's meaningless, pompous tirades, Miss Vanbrugh has to feign deafness.
This was an inspiration on the part of the author, for it provides her with some delicious moments, in which her manner takes one back in a flash to blissful memories of Mr Pim - that sweet, submissive manner which veiled a determination to pursue her own way unperturbed by an arbitrary husband's interference.
We laugh a good deal throughout the play, for some of the humour is real. And then, quite suddenly, those of us who are susceptible to that queer sudden change in Irene Vanbrugh's voice, are near to tears. It is when she talks about the memories that the room. she is supposed to be leaving for ever, holds. In the space of half-a-minute she can turn the sternest of cynics into a sentimental fool. This, I submit, is great acting.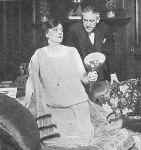 Irene Vanbrugh &
Athole Stewart in
the 1926 revival of Caroline
Click photo to enlarge
The same year, she starred in a revival of Somerset Maugham's Caroline, replaying the title part that she had created in the opening production on February 8, 1916. The Theatre World of July 1926 enthused: 'Irene Vanbrugh is, needless to say, inimitable.'
After the death of her husband in 1929, Irene Vanbrugh appeared less often on stage. She continued, however, to be still regarded as one of the outstanding British actresses of the period. In 1933, she took part in Stars in their Courses - a BBC radio program that was one of the earliest recorded broadcasts. Also participating were Fay Compton, Sir Frank Benson and Matheson Lang.
1933 also saw the release of the first of the ten talkies in which she appeared. They included Catherine the Great (1934) that also starred Douglas Fairbanks Jr, Flora Robson and Gerald du Maurier, Wings of the Morning (1937) with Henry Fonda, and Knight without Armour (1937) with Marlene Dietrich and Robert Donat.
Irene Vanbrugh did not, however, desert the stage, although she tended to play smaller but still important parts in prestigious productions. One of these was the 1938 premiere at His Majesty's Theatre of Operette, in which she appeared with the author and director, Noel Coward.
Irene Vanbrugh in Operette, 1938

Front cover
of the program
Photo in the program


Sketch by Stanley Parker,
Theatre World, June 1938
With Peggy Wood - photo in
Theatre World, April 1938
Click photo to enlarge
In 1940, she was created a Dame for her services to the theatre.

Dame Irene Vanbrugh
died in London on November 30, 1949, two days before what would have been her 77th birthday.
Go to the
INDEX PAGE
of 'The Golden Age of British Theatre'