THE GOLDEN AGE OF BRITISH THEATRE (1880-1920)
by Sydney Higgins
Ellaline Terriss (1872-1971)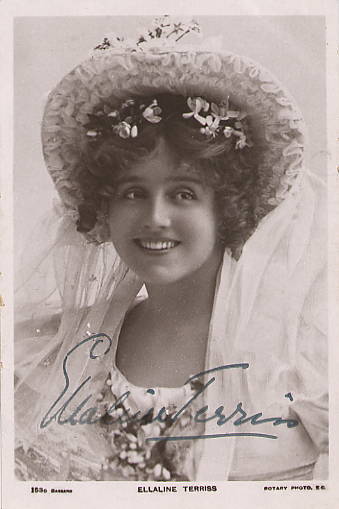 (signed postcard, gloss, Rotary 1153c, c.1908)
Ellaline Terriss (as she was to be known) was born Ellaline Lewin on April 13, 1872, in the Ship Inn, Stanley, in the Falkland Islands where, at that time, her father, William Lewin (1949-97), was a sheep-farmer. He loved the adventurous, outdoor life and had previously been a merchant seaman, a tea-planter in Assam and an actor. Shortly after Ellaline's birth, her father decided to give up farming and to return with his wife and daughter to England where, adopting the stage-name, William Terriss, he became an enormously popular actor who, because of his swashbuckling style, was known as 'Breezy Bill'.
In 1888, at the age of sixteen, Ellaline made her professional stage debut at the Haymarket Theatre. Petite, pretty, demure and talented, she was soon able to pick and chose her roles, attracting the praise of both critics and the public. She also attracted and was attracted to one of the best young actors of his generation, Seymour Hicks, who had already toured America with the Kendals' company. He was a year older than her and had also started his acting career when he was sixteen. They married in 1893.
That year, Seymour Hicks produced Under the Cloak, the first American-style revue staged in London. Later, opening at the Lyceum Theatre on December 16, 1893, Ellaline Terriss starred as Cinderella in the famed Mr. Oscar Barrett's Fairy Pantomime Cinderella. Produced by Henry Irving and with music by Oscar Barrett, it ran in that theatre for 126 performances. As The Theatre reports, it was a lavish spectacle:
With 'Cinderella,' Mr. Oscar Barrett has rescued pantomime from the Slough of Vulgarity in which it was sunk, and 'Cinderella' the play, and Cinderella the lovable heroine, will long remain a memory. From a dozen gems one selects an exquisite dance of autumn leaves, a fluttering maze of rustling silks in russet browns, and russet reds, and tender greens, and faint blush pinks; a toilet dance of fairy fans, gloves, flowers, powder-puffs, pin-cushions, jewels, and all the mysterious items necessary for a fairy godchild's irresistible toilette; and a "history of dance," in which a stately measure, stepped by Antony and the "Serpent of old Nile," heralds the immortal lovers, Juliet and Romeo, moving hand in hand through some slow-paced Florentine steps, who make way for a charming minuet, a rollicking Tudor revel, a Mikado fantasy tripped and nodded by tiny Japs, and a sensuous nautch dance dreamily swayed by Mdlle. Zanfretta...
But better than all is the poetical Cinderella of Miss Ellaline Terriss, the most bewitching little heroine of pantomime ever seen, a heroine worthy of the Lyceum, worthy of the boards on which Miss Terry has so long ruled supreme.
Towards the end of the run, Seymour Hicks took over the role of Thisbe, one of Cinderella's half-sisters.
The following season, Ellaline Terriss was one of the Governor's two daughters in the W S Gilbert and F Ormond Carr's His Excellency, that opened at the Lyric Theatre on 27 October 1894 and ran for 162 performances. In 1895, she and her husband appeared in New York where they met and became close friends with the American writer, Richard Haring Davis. In a letter to his brother, dated December 31, 1895, he says:
I have had such a good time helping Mrs. Hicks in Seymour's absence. She had about everything happen to her that is possible and she is just the sort of little person you love to do things for. She finally sailed and I am now able to attend to my own family.

Ellaline Terris in Circus Girl
Click photo to enlarge
Seymour Hicks had returned early to England because a play he had written jointly with George Edwardes, the dynamic manager of the Gaiety, was opening on December 21, starring Ellaline's father, William Terriss. Entitled One of the Best, it was a dramatization of the Dreyfus case. Famously, after seeing it, Bernard Shaw declared that the show was 'one of the worst'. The public disagreed and the show, with its vast numbers of marching, kilted regiments, proved popular with the jingoist audiences.
The couple starred for the next two years in a series of musical comedies at the Gaiety, including The Shopgirl, The Circus Girl and The Runaway Girl (with a book that Seymour Hicks co-wrote with Harry Nichols).
It was during this period that tragedy struck. On December 16, 1897, William Terriss, as he was about to enter the stage door of the Royal Adelphi Theatre, was stabbed to death by a deranged and disgruntled unemployed actor, Richard Archer Prince. The murder and Prince's subsequent trial filled the major pages of the country's newspapers for weeks.
Overwhelming public support and sympathy were addressed to Ellaline Terriss and her husband who were already regarded as being one of the country's most successful stage couples. On March 17, 1898, Ellaline Terriss was one of the many stars who took part in a benefit held at the Gaiety Theatre for Nellie Farren, a famous long-serving member of the Gaiety company whose career had been cut short by a crippling spinal disorder. In a letter to his mother, Richard Harding Davis reports:
... the best part of it was the pantomime. Ellaline came up a trap with a diamond dress and her hair down her back and electric lights all over her, and said, 'I am the Fairy Queen,' and waved her wand, at which the First Boy in the pantomime said, 'Go long, now, do. We know your tricks. You're Ellaline Terriss'; and the clown said, 'You're wrong. She's not. She's Mrs. Seymour Hicks.'
Later in 1898, Ellaline Terriss starred in A Runaway Girl, co-written by her husband that became one of the Gaiety's most popular shows. This was followed in 1899 by With Flying Colours.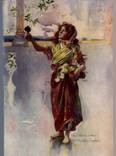 Ellaline Terriss in Bluebell in Fairyland
Click photo to enlarge
The couple entered into a partnership with the producer, Charles Frohman, and for much of the next decade shared enormous success. Seymour Hicks became a prolific author of light comedies in which he and his wife starred. One of these was his musical dream play, Bluebell in Fairyland, which opened at the Vaudeville Theatre on 18 December 1901. It was an enormous money earner, being regularly performed as a Christmas entertainment in Britain until 1937. The next successes were The Cherry Girl and Quality Street (both in lity Street. Jerome Kern and some lyrics by 1902). There was a brief pause in her hectic career in 1904 when she gave birth to her first child, Mabel.
Seymour Hicks used some of the fortune he received from this and his other plays to build two theatres - the Aldwich in 1905 and the Globe (originally named the Hicks's) in 1906. The opening show was The Beauty of Bath, with music by Jerome Kern and some lyrics by P G Wodehouse.
Ellaline Terriss constantly performed with her husband both in London and on tour in American. After the birth of their second daughter, Betty, in 1906, Ellaline Terriss drastically reduced the gruelling acting schedule she had followed for almost twenty years. However, in 1907, she starred with Seymour Hicks in one of their greatest successes, The Gay Gordons, and continued to appear in selected plays, normally with her husband (including a tour of South Africa in 1911), until she officially retired in 1917.
ELLALINE TERRISS

Click photo to enlarge
Afterwards, she returned to the stage only on special occasions. In December 1925, she appeared at the Lyceum with her husband in The Man in Dress Clothes, a French farce he had translated and in which their daughter made her stage debut. It was intended only to run for a short season but it was such a success that it transferred to the Queen's for another month. The Theatre World reported:
December, 1925
Let me announce at the outset, as being the thing every one wants to hear about, the charm of Ellaline Terriss is just exactly what it was eight years ago. She speaks in the same clear, deliberate manner which emphasizes the change that has taken place since her retirement, in the matter of enunciation, involving, as it does, more speedy and much more audible delivery. It was pleasant to know that her much-heralded return must have been a proud moment not only for her husband, but also for her daughter, Betty Seymour Hicks, who makes her debut in this piece under two most distinguished parental wings.

January, 1926
There is little doubt that much of the success of this revival is due to the presence in the cast of our one and only Ellaline Terriss. Of the older generation of actresses there is no more beloved figure than 'dear Ella' as the gallery girls used to call her. She has never been a 'great' actress, but her charm - a sort of sweet radiance - has made her one of the most popular of living players.
Although her stage career was over, Ellaline Terriss did appear in eight British films made between 1927 and 1939. This was certainly due, in part, to her husband who enjoyed a long and illustrious film career as an actor, writer and director. When he was knighted in 1934, she became Lady Ellaline Hicks.
ELLALINE TERRISS

Click photo to enlarge

Ellaline Terriss died in Richmond on June 16, 1971. She was 99 years old.
Go to the
INDEX PAGE
of 'The Golden Age of British Theatre'