THE GOLDEN AGE OF BRITISH THEATRE (1880-1920)
by Sydney Higgins
Sir Seymour Hicks (1871-1949)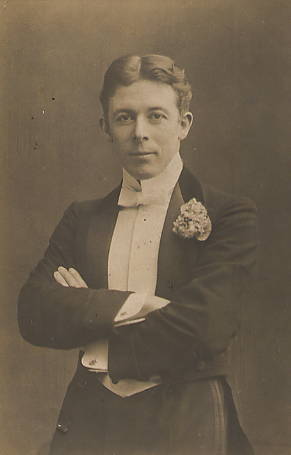 (postcard, matt, Stereoscopic, 3E, c.1908)
Seymour Hicks was born on January 30, 1871, in St. Helier on the island of Jersey (GB). At the age of nine, he appeared as Buttercup in Gilbert & Sullivan's H.M.S. Pinafore at his school in Bath. After that, he was determined to be an actor.
He first appeared professionally on stage at the age of sixteen in a production of In the Ranks at the Grand, Islington. Two years later, in 1889, he joined the theatrical company of Mr and Mrs Kendal for their American tour where they presented a repertory of contemporary plays. Seymour Hicks was ambitious, amusing and always full of energy. From his tour with the Kendals, he learnt much, not only about acting but, what most fired his ambition, much more about the organization of a company, the management of theatres and new developments on the American stage. After his return to England, he continued acting and set about the production of Under the Cloak, the first revue staged in London.
In 1893, he met and married Ellaline Terriss, a beautiful young actress who had already established a considerable reputation for playing demure heroines. For the next fifteen years, they often appeared together on stage. They toured America in 1895 and, for the next couple of years, appeared in a sequence of musical comedies at the Gaiety Theatre.
In addition to being an actor, Seymour Hicks became a prolific author of commercial hits which were often written in conjunction with a partner. With Harry Nichols, he wrote the book for the musical comedy, The Runaway Girl, that opened at Daly's Theatre on August 25, 1898. On 19 August, 1899, the Adelphi season began with a production of With Flying Colours, he had written with Fred G. Latham. Bluebell in Fairyland, his musical play in which he and his wife starred, bought him substantial financial and critical success. It was first performed at the Vaudeville Theatre, London, on 18 December, 1901, but was frequently revived over the next forty years.

Seymour Hicks
in Quality Street
Click photo to enlarge
Constantly performing, both in London and the provinces, Seymour Hicks and Ellaline Terriss, although having only just reached their thirties, had become the idols of the theatre-going public. Although perhaps he performed too often to have become one of the Twentieth Century's truly great actors, Seymour Hicks was an impressively versatile performer, as much at home in the music-hall and light comedy as he was in the straight theatre.
Such was the fortune he had amassed that he had commissioned two new theatres in central London. The first, built in association with the American impresario, Charles Frohman, was the Aldwych, which opened in 1905 with Blue Bell, a new version of A Bluebell in Fairyland, with, again, Mr and Mrs Hicks in the leading roles.
They also starred in the succession of musical comedies that were presented at the theatre. The books for most of these were written by Seymour Hicks who was also normally the director. Unlike many actor/managers of the Nineteenth Century, however, he had a talent for discovering people with ability and encouraging them to succeed. One of these was a young aspiring author who was engaged to write the lyrics of the topical encores (working with the composer, Jerome Kern) for the Seymour Hicks musical, The Beauty of Bath, that opened at the Aldwych on March 19, 1906. It was P. G. Wodehouse's first paid employment as a writer. The following year, he contributed two lyrics to another Seymour Hicks musical - The Gay Gordons, which opened at the Aldwich on September 11, 1907.
That year, Seymour Hicks opened the second of his new theatres. Still standing today in Shaftesbury Avenue, it became the Globe in 1909 and, in 1994, the Gielgud, but it was originally named the Seymour Hicks Theatre. The first presentation was yet another of the owner's musicals.
Then, in 1909, one of his musical comedies, Dashing Little Duke, failed at the Hicks's. The financial disaster did not deter Seymour Hicks. As determined as ever, he widened his scope, even appearing in 1910 - for the first time in a Shakespeare play - in the title role of Richard III. The following year, he took a company on a tour of South Africa. After the outbreak of World War I, he was the first actor to appear in France. Because of this, he was awarded the French Croix de Guerre.
Few people read the changes brought by the war to the tastes of theatre audiences better than Seymour Hicks and, well aware that the days of the musical comedy were coming to an end, he began to write and appear in light, escapist comedies, such as Sleeping Partners (1917). After the war, he turned his attention to satiric farces, such as Good Luck (1923) that he wrote with the novelist Ian Hay. Many of his plays in the 1920s were, however, adaptations of French farces, such as The Man in Dress Clothes, which was first presented at the Garrick in 1923 and revived at the Lyceum in 1925. During the latter run, The Theatre World declared:
'What an amazing man is Hicks! He can move on to laughter or tears as easily and as quickly as he pleases. His versatility is remarkable; so is his activity, mental and physical. Only recently he was acting eight times a week in The Man in Dress Clothes, rehearsing two plays, and superintending a huge charity matinée. How good it was to see him as Scrooge in the latter - undisputed proof that he is a great actor, when he chooses'

Everything that Seymour Hicks says and does may be traced down to the fact that he simply bubbles over with life. He is always up and doing. Some imp of energy keeps him perpetually on the move.
Having appeared in two early silent films (Scrooge in 1913 and A Prehistoric Love Story in 1915), Seymour Hicks decided in 1923 to make his own films and created Seymour Hicks Productions. His first film, in which he was to star, was Always Tell Your Wife, which was based on one of his plays, adapted for the cinema by Hugh Croise, who was also the director. It had been intended that Ellaline Terriss would star with her husband but, in the event, the part was played by the popular American actress, Gertrude McCoy, who had already appeared in over 30 silent films.

Front cover of Program for Vintage Wine (1934)
Click to enlarge
One day, while the film was being made, Seymour Hicks quarreled with Hugh Croise, his director, who then walked off the set. Looking around the studio, Hicks noticed a young man who was working as an artist for another company but who had said that he wanted to be a film director. He called him over and said, 'Let you and me finish this thing by ourselves.' And they did. The film was Alfred Hitchcock's directing debut.
It was the last film made by Seymour Hicks Production but it was far from being Seymour Hicks's last film. He went on to direct two more films - Sleeping Partners (1930) and Glamour (1931); eleven films were made either from his plays or his scripts; and he starred in nineteen films. His most acclaimed performance was Ebenezer Scrooge in the film Scrooge, made in 1935. It was a part that he had played in his first film twenty-two years earlier and that had been part of his stage repertoire for even longer. The film's director was the same Hugh Croise that, twelve years earlier, Alfred Hitchcock had replaced during the filming of Always Tell Your Wife.
The previous year (1934), he had taken over Daly's Theatre where he produced and appeared in a series of successful plays including Vintage Wine that he and Ashley Dukes adapted from a novel. It opened on November 5, 1934, with a cast including Claire Luce and Julia Neilson.
By now he was a senior and much respected theatrical figure and received many honours. In 1931, he was awarded the Legion of Honour for his promotion of French drama on the English stage and, in 1934, he was knighted. He thus became Sir Seymour Hicks and his wife, Lady Hicks.
When World War II began, he repeated his accomplishment of the previous world war, being, on November 12, 1939, the master of ceremonies at the first concert given in France by the newly formed ENSA (Entertainment National Service Association). For this action, Seymour Hicks was awarded his second Croix de Guerre.
He continued appearing on stage and in films until a year before his death.
Seymour Hicks was famed for his witty one-liners. Here are three examples:
On one occasion, while sitting in his club with a group of old fellow members, sleepy after a very good lunch, he said, 'Things seem a bit dull. Let's change teeth."
'You will recognize, my boy, the first sign of old age: it is when you go out into the streets of London and realize for the first time how young the policemen look.'
'A man does not buy his wife a fur coat to keep her warm, but to keep her pleasant.'
Sir Seymour Hicks
died, at the age of seventy-eight, on 6 April, 1949.
Seymour Hicks

Postcard, Fred Ellis & Walery, c. 1899
Miniature postcard, Rotary, c.1900
The Man in Dress Clothes
Lyceum Theatre,
1925
Vintage Wine,
Daly's Theatre,
1934
Click photo to enlarge
Go to the
INDEX PAGE
of 'The Golden Age of British Theatre'